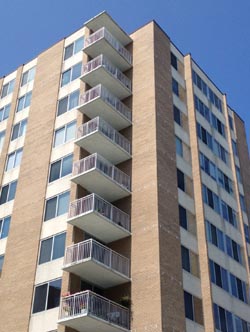 Van Ness North is located on Veazey Terrace NW and is one of three apartment buildings and a commercial building comprising the Van Ness Centre complex built in the first half of the 1960s on an 18 acre parcel of land. The complex is bordered by Connecticut Avenue NW on the west side, Van Ness Street on the south, Soapstone Valley Park on the North, and on the east side, the continuation of Soapstone Valley Park and the campus of Howard University Law School.
Van Ness North is a cooperative apartment building originally consisting of 466 units; a few units have been combined. It is 16 stories tall, built into the side of hill, with the main entrance facing south on Veazey Terrace NW. The building was designed by the architectural firm of Abel and Weinstein and consists of efficiencies, one, two and three bedroom units. Many have balconies or terraces. There are three levels of underground parking for approximately 500 cars.
The four building complex is designed in the International Style. The three apartment buildings have the same high-quality construction with the exteriors comprised of light brown (tan) brick. They are very similar in facade design but quite different in the size and mix of units within. All of the buildings are well sited and connected by large plazas, terraces, driveways, and walkways. Landscaping includes an assortment of fountains and open lawns. Of the 18 acres, 13 are open space.
Van Ness North is convenient to retail shops, including Giant Food supermarket, two drug stores (CVS and Walgreens), Calvert Woodley liquor and deli store, as well as restaurants, laundry and dry cleaners, and other stores providing goods and services. Additionally, Van Ness North is one block east of the Van Ness/UDC Metro Station (Red Line).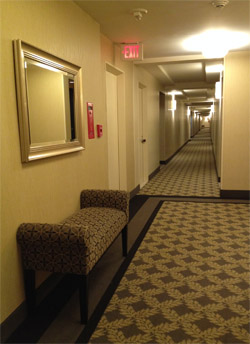 Van Ness North's address is 3001 Veazey Terrace NW. This street begins at Connecticut Avenue and runs about one block east ending in a circular driveway in front of Van Ness North. This area has short-term parking for visitors and a landscaped fountain. The main entrance - on the building's south side - is on the circular driveway and leads to the lobby which is on the fifth floor because the building is built into a hillside. The north side of the building - the hillside - has apartments going to the first floor. Floor to ceiling windows at the back of the lobby offer an expansive view of Soapstone Valley Park.
Amenities include a front desk staffed 24-hours a day, a doorman at the lobby entrance, a party room, an exercise room, a library and separate saunas for men and women, a package room that receives deliveries for all residents. There are also two outdoor swimming pools that open during Memorial Day weekend. The smaller pool closes during Labor Day weekend and the large one is opened two weeks beyond Labor Day. During the season, this pool opens early for lap swimming on weekdays.